Andrea Agosta Goes from a Corporate Day Job to Showcasing Jewellery at New York Fashion Week.
Queen of the night, Andrea Agosta returns home after a long day in her busy corporate job to switch roles to jewellery designer extraordinaire. For over 10 years, Andrea has been designing and creating hand-crafted jewellery that has been featured from runways to reality TV shows.
All of Andrea's pieces sparkle with elegant Swarovski® crystals, reflecting the true femininity of the wearer. It's her unique, creative style that has seen Andrea's designs capturing the attention of audiences far and wide. From women across Australia to TV stars and models.
Watch Out World – 'Crystal Couture' has been launched!
In line with Fashion Weeks launching across the world, Andrea is collaborating with CatherineRCouture and Artist Mary Caia, launching her brand new line, 'Crystal Couture'. Her new line is set to revolutionise wardrobes across the globe, showing women how the simple addition of a jewellery piece can transform any outfit. The classic styles of Andrea's new range combines crystal pearls and sparkling Swarovski® crystals for old-world glamour and charm.
Handmade earrings, bracelets, necklaces, headpieces, pendants and rings for bridal wear, race wear, high fashion events or everyday wear, ensures this collection has something for everyone.
Andrea's new collection also features crystal cuffs that were the best selling item from last year's Andrea Agosta Spring Collection. Teamed with the new couture earrings of the 'Crystal Couture' range, you'll find this perfect pairing will be featured from red carpets to race days.
Here's a sneak peek of some of the designs exclusive to Andrea Agosta fans: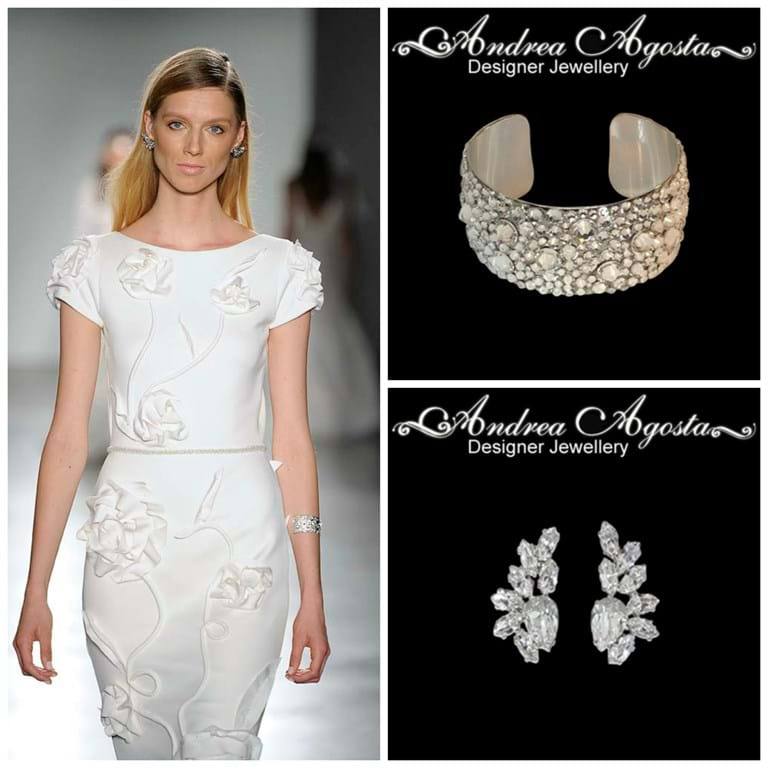 These Stunning Crystal Jewellery Pieces Are Well Worth The Investment.
Designed to be worn in so many different ways, the 'Crystal Couture' collection will see women being able to re-wear these unique pieces over and over again. Mix and match them, wear them by themselves or double up.
Always remember – there's no right or wrong places to wear your favourite piece of jewellery. If you are so in love with your new Andrea Agosta earrings, wear them to the shops, wear them to work or wear them to your fancy evening event. That's the beauty of the 'Crystal Couture' range; it's unique yet versatile.
'Crystal Couture' Brochures Are Available.
If you're wanting to see more of Andrea's new range, please email enquiries@andreaagosta.com to request your brochure. You can also view 'Crystal Couture' online at www.andreaagosta.com
'I've never thought of my jewellery as trophies.
I'm here to take care of it and to love it'........ Elizabeth Taylor.
Media enquiries:
Andrea Agosta
enquiries@andreaagosta.com
+61 407 848 693